This is the "stuff" page. I like stuff. Well some stuff. On this page I will post what I like to read. Music I like. Links to interesting things. Just some fun stuff.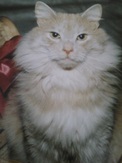 COMING SOON!

Meet Simon. He's known as a "Fluff," which means he has a lot of heart but very little brains. His adventure starts soon.


---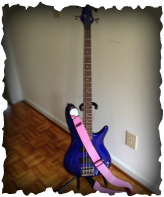 This is Kitty Blue. Of course this has a story behind it too. I always wanted to play guitar, but my fat little fingers were not long enough to make the chords. I gave up. I still wanted to play an instrument. While volunteering for our contemporary service, I borrowed a bass from one of our guitar players. I wanted to see if I would like playing it. I bought an inexpensive hot pink Hello Kitty guitar strap with the thought that I would give it to my daughter if I didn't like it. I was excited! My fat little fingers could play this guitar! I returned the bass, and bought my own. It's sparkly blue and with the pink Hello Kitty guitar strap, hence the name, Kitty Blue.
---
A friend posted this on Facebook. I thought it was super cool. Enjoy.